Diamond Deluxe Options
Options for the Diamond Deluxe Range of Animal Transportation Units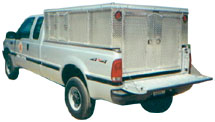 Safety Door: This is a second, interior door with a catch pole access hole that lets you secure aggressive animals before opening the door. Available on one or more compartments.
(Click here for photo)

Built-In Loading Ramp: Aluminum loading ramp that assists in loading large or hard to control animals. Stores in the side of the unit. Movable from compartment to compartment. Helps to prevent back injury.
(Click here for photo)

PetStep Ramp: A plastic ramp that folds up for easy storage. Lightweight and yet very strong.
(Click here for photo)

Roof Rack: Aluminum roof rack around the top of the roof. This is handy for hauling traps, ladders, etc.
(Click here for photo)

Floor Grilles: Made of molded polypropylene, a smooth, non-porous material that inhibits bacterial growth. One half inch thick with 3/4" x 3/4" openings that help keep animals up out of waste. Easily removed for cleaning purposes.
(Click here for photo)

Interior Lights: Interior compartment lights provide light during night time use.

Fresh Air Delivery Unit: A dual blower system that forces outside air into the animal compartments and is exhausted through the doors and side panels. Air conditioning and heating systems are also available.

Floodlights: 5" LED Utility Lamp provides 3,000 candlepower.

AC/Heat:
14,000 BTU cool, 1,200 BTU Heat. System ties into vehicle system. Ducted individually to each animal compartment.