Aluminum Dog Trailers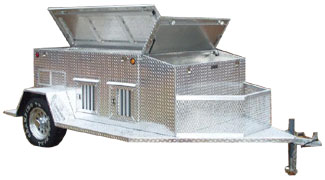 TRL-6 with Front Stg. Box and Tongue Rack
At JACKSON CREEK we know there are several firms making dog trailers. So why should you consider our product? Because a JACKSON CREEK aluminum dog trailer is built by gun dog people who themselves use what they produce and know that it is the little things that make a big difference. It's things like Plexiglass door covers so you can see the dogs even when they are shut up, plenty of storage space for hunting gear, and other small details that set our units apart. This is to say nothing of the tight quality control standards that insure that a JACKSON CREEK unit will give you years of trouble free service and a high resale value should you decide to sell your unit in the future. Many of our competitor's charge extra for features JACKSON CREEK includes as standard features.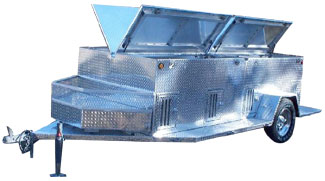 TRL-8 with Water Tank / Rack
All JACKSON CREEK aluminum dog trailers come standard with the following features:
Clear Plexiglass door covers
New 15" Automotive tires
Clear Coated aluminum wheels
Complete mounted Spare
12" Weatherproof top storage compartments
2" Ball Coupler
Rubber Mounted Sealed Beam lighting
Swivel Jack
Insulation on all exterior walls
Running Boards
Painted Steel Frame

TBL-3 with Tongue Rack

TBL-4 with Tongue Rack
Click the model # to see a drawing of the unit.
Prices (Effective 3/11/22)
| Model | Item # | Retail |
| --- | --- | --- |
| TRL-4 | 4-Hole Trailer, Totally Enclosed, 2-Side Load, 2-Rear Load | $7,900.00 |
| TRL-6 | 6-Hole Trailer, Totally Enclosed, 4-Side Load, 2-Rear Load | $9,075.00 |
| TRL-8 | 8-Hole Trailer, Totally Enclosed, 8-Side Load | $12,925.00 |
| TBL-3 | 3-Hole Beagle Trailer, 2-Side Load, 1-Front Load, 3-Runs | $8,315.00 |
| TBL-4 | 4-Hole Beagle Trailer, 4-Dog Compartments, 4-Runs | $9,460.00 |
| TBL-6 | 6-Hole Beagle Trailer, 6-Dog Compartments, 6-Runs | $10,150.00 |
Trailer Options
| Item | Retail |
| --- | --- |
| Front Mounted Storage Box | $785.00 |
| Tongue Mounted Open Rack | $400.00 |
| Tongue Mounted Water Tank | $525.00 |
| 12-Volt Forced Fresh Air System | $920.00 |
| Roof Rack (TRL-4) | $220.00 |
| Roof Rack (TRL-6) | $275.00 |
| Roof Rack (TRL-8) | $380.00 |
| Interior Compartment Lights | $110.00 |
| Airing Lights | $110.00 |
| Tie-Outs (per compartment) | $32.75 |
| 1" Insulation on floor & Exterior Walls with Alum Liner (per compartment) | $172.50 |
| Battery Pack with Isolation Switch & 12-Volt Trickle Charger | $945.00 |